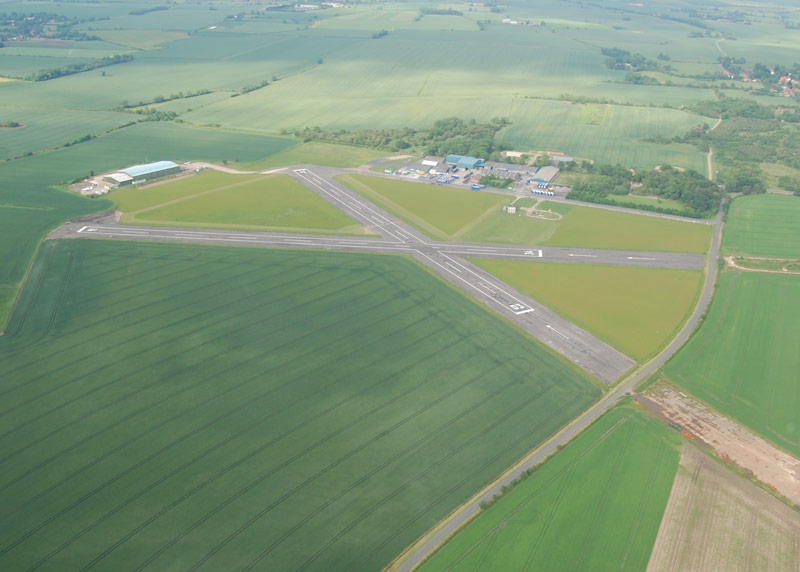 Fly to Wickenby Aerodrome
How to find us by air
EGNW – Wickenby Aerodrome
Latitude: N5319.02
Longitude: W00020.93
Aerodome Elevation: 84ft / 3mb
Licenced T/O runway available:
TORA 03 / 21 – 530 x 18 metres
TORA 15 / 33 – 497 x 18 metres
Circuits
GA – 1000ft QFE
Microlight – 700ft QFE
All circuits are left hand
Information
The original aerodrome is divided by a public road and only the runways to the North of the road can now be used.
Hot Spot HS1. The threshold of 21 is frequently crossed by HGV and private vehicle traffic.
Pilots must be alert to possible incursion as there is no traffic control.
Military Air Traffic Zones (MATZ). Don't be intimidated by the cluster of MATZ around Wickenby. These are not Controlled Airspace, but offer a Penetration service to separate you from military traffic. Waddington Radar (119.500) is a good place to start. If after two attempts you get no response, make blind calls and proceed through the MATZ. Do NOT enter an ATZ without making contact, even if the MATZ is cold – there may be circuit traffic. NEVER enter RAF Scampton's Restricted Area R313 without confirming its status. This protects the Red Arrow's training airspace.
Aerobatics at Wickenby. Aerobatic training takes place in one of two 'boxes' over the airfield. They stretch from 500 – 4000ft. To separate training and circuit traffic, A/G Radio will confirm if active. If active NO overhead joins are permitted, the circuit direction may be changed from standard and there may be 500ft height restriction on portions of the circuit
The warehouses on the aerodrome are not to be flown over at anytime.
Departing aircraft passing 1500ft aal within the ATZ are requested to contact RAF Waddington ATC on 119.500 MHz.
During Operating Hours Drones must not be used within the ATZ, without specific approval from the Airfield Manager. Outside Operating Hours Drones are prohibited within the airfield boundaries except by advance permission.
More Details
Wickenby A/G: 122.455
Waddington LARS: 119.500
Non-radio PPR – 01673 885000
Airfield mobile – 07435753383
ICAO code: EGNW
We have a maintenance facility on site. For details please contact them directly:
OneSky Aviators – 07955 480488
Wickenby
12°
Partly Cloudy
6:53 am6:51 pm BST
Feels like: 11°C
Wind: 10km/h SSE
Humidity: 88%
Pressure: 1017.95mbar
UV index: 0
20/13°C
17/12°C
19/9°C

Landing fees for all visiting aircraft range from £5 to £20 depending on size.
Please avoid over flying villages to NW, NNE and E of the airfield.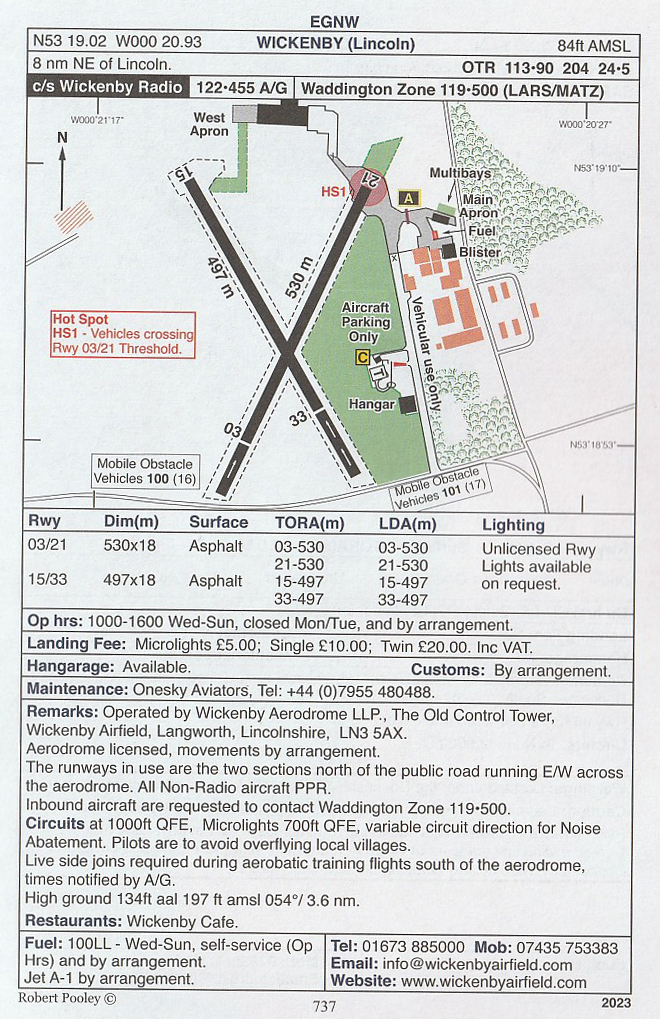 AEROBATIC TRAINING 2023 dates to be announced
Wickenby has a history of hosting aerobatic training and events – the National Competition was held here as long ago as 1976!
An aerobatic 'box' is established to the South of the airfield, to separate aero training from normal traffic.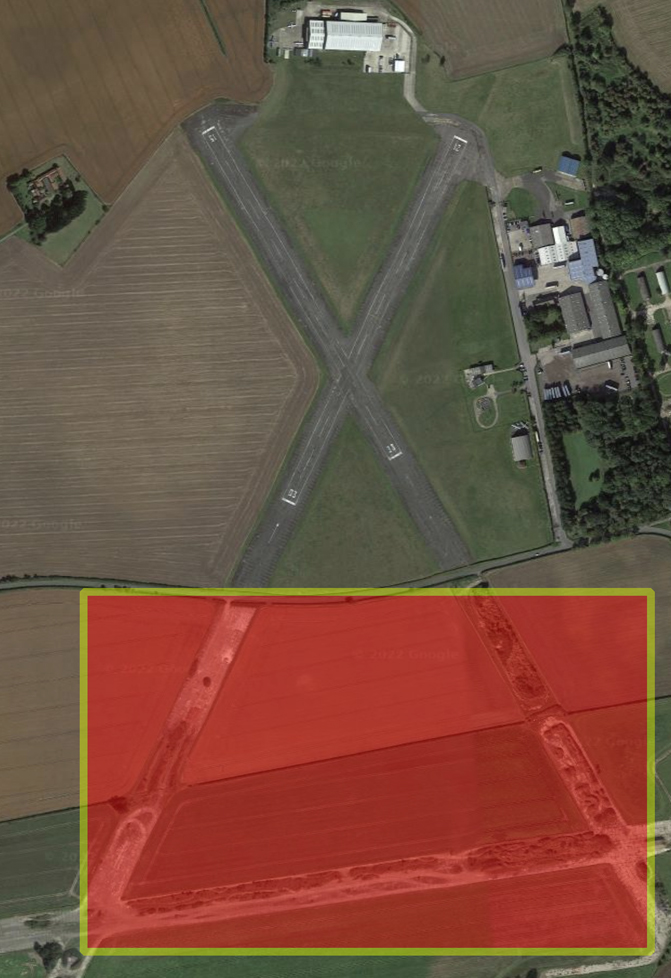 The use of the aero training box is strictly by prior agreement with the airfield management. The 'box' is located over the southern part of the disused portion of the wartime aerodrome and extends from 500ft AAL to 4000ft AAL
Use of the 'box' is co-ordinated with RAF Waddington. Live days will be promulgated by NOTAM. When the box is actually in use, there will be changes to the circuit procedure to maximise separation with normal circuit traffic.
No overhead or dead-side joins
---
Right-hand circuit
Below 500ft on Climb-out and Crosswind legs
---
Left-hand circuit
Below 500ft on Base and Final legs
---
Left-hand circuit
Below 500ft on Climb-out and Crosswind legs
---
Right-hand circuit
Below 500ft on Base and Final legs